Do you have a creative mind, a love for new technology, and a desire to sell your work as NFTs in an unusual way? Learn how to make a free digital certificate in minutes and sell your products using blockchain technology.
How to Make an NFT?
To refresh your memory, "NFT" stands for non-fungible token. It is simply a virtual certificate published on a blockchain that enables the identification of digital work, similar to a certificate of authenticity. NFTs, unlike currencies, are non-interchangeable, which means they cannot swap for goods or assets of equal value.
NFTs may trade in digital markets that exclusively accept cryptocurrencies as payment. Blockchain technology makes it feasible to guarantee the security of these transactions. As an artist, adopting NFT technology allows you to sell your work without relying on galleries or auction houses.
Who is capable of creating an NFT?
Do you want to know whether your inventions may be published on a blockchain and become an NFT? When it comes to NFTs, everything is (nearly) possible.
NFTs may be made from the following materials:
Work of art (drawings, paintings, photos, etc.)
Songs or musical pieces
Films
Items for collectors (such as a game card)
However, GIFs may also use to create an NFT.
Tweets (yep, tweets!)
Virtual environments
Video game virtual objects
Names of domains
Assets tokenised (real estate, cars, etc.)
To convert work into an NFT, you must first possess its rights.
Jack Dorsey, the co-founder of Twitter, sold his first tweet millions! But, before you attempt (or fail) to match Dorsey's profit, there are a few steps you must follow to produce and sell your NFT:
1. Decide on a blockchain for your NFT
The first decision you must make is which blockchain you want to "mine" on—that is, where you want to register and have your NFT confirmed and time-stamped. A blockchain is a worldwide database that is protected by a decentralised system. Blockchain technology is also responsible for the creation of cryptocurrencies.
However, some blockchains, such as Binance Smart chain, Flow, Tron, and EOS, enable NFTs.
2. Open a cryptocurrency wallet to sell your NFT
After you've decided on a blockchain, you'll need to build a cryptocurrency wallet, which is required if you wish to conduct cryptocurrency transactions, such as receiving cryptocurrency or exchanging it for "regular" cash.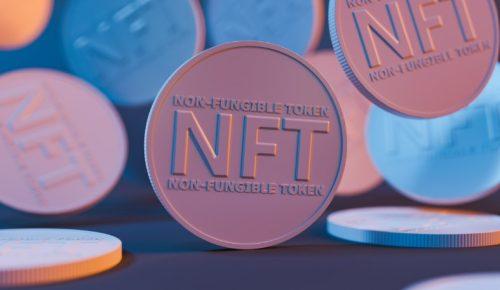 To build an NFT, utilise a hosted wallet like Coinbase or Kraken.
If you want to invest in NFT or cryptocurrencies, this tutorial will teach you all you need to know about selecting a crypto wallet.
3. Select a market for your NFT
There are several websites where you may produce and sell NFTs these days.
The following are a few popular market places for NFT:
These sites function similarly to online digital art shops, except transactions are conducted in bitcoin.
Do you want to learn how to make an NFT for free?
The prices and rates for generating NFTs vary. Unfortunately, not many platforms will not charge you network costs.
The procedures differ according to the platform, but here's a broad overview of how NFT creation works:
Select a platform and begin developing your NFT. You will be required to specify the number of copies of your work (single or multiple).
The selected platform will then prompt you to link your cryptocurrency wallet before providing you with access to an NFT creation page.
To make your NFT, upload a file of your choice—JPG, PNG, GIF, WEBP, MP4, and MP3 files are all supported.
You must choose between a set price, a free price, and a time-limited auction.
You'll also need to provide information about your NFT, such as a title, description, collection, resale commissions, etc.
Finally, you must sign the necessary forms and authorisations.
And there you have it—your first NFT has been produced!
Regarding the costs paid by the major platforms, keep in mind that, because of Rarible's "lazy minting," you no longer have to pay network fees (also known as "gas fees") to manufacture and sell your NFTs. Your NFT will be recorded on the blockchain when your work is sold at the buyer's cost.
On Opensea, however, you must pay gas costs to record the sale of your NFT on the blockchain.
What is the worth of an NFT?
The whole idea of NFTs is to establish scarcity in a digital society dominated by plenty and imitation. Remember that NFTs "only" offer the owner of the digital property; the author retains all economic and commercial rights.
NFTs, or next-generation art marketplaces, function similarly to trading cards. The law of supply and demand is the single rule that governs the value of an NFT.
Because the market is still relatively young, determining the elements that drive how NFTs rise in value is difficult.
Having stated that some criteria that might cause an NFT's price to rise are:
because of its scarcity
its palpability (if it is a physical item)
its importance (for example, if an NFT can be bought as a ticket to an event)
its origin (the more known the NFT is, the more its price climbs)
How to Market an NFT?
Do you want to sell your NFT as an artist?
You may choose from a variety of options:
Promote your NFT to your community through traditional email or social media methods.
Make contact with NFT collectors. You may accomplish this by communicating on Instagram and Twitter with special hashtags such as #cryptoart, #nft, #cryptoartist, and #nftphotography.
Consider metaverses that specialise in NFTs, such as Cryptovexels and Somniumspace. A metaverse is a 3D virtual environment that can access through a browser.
Conclusion
NFT is an abbreviation for Non-Fungible Tokens. It is a data unit maintained on a blockchain, a kind of digital ledger technology. Buy NFT certify distinct digital assets that are not replaceable for fractions of their entire value. Unlike Bitcoin, which can be split into Satoshis, NFTs always remain in their original form.