Cheques may be less popular these days, but they are still a favoured mode of payment for many individuals and businesses, and as such, you may get a cheque as a payment option. Although many individuals have bank accounts into which they may deposit their cheques, you may have to wait up to a week before getting your hands on the money. You may always get the cheque cashed if you need the money right now or don't want to wait that long. Similarly, if you do not have a bank account, your choices will restrict since what you can do with a cheque is limited; thus, being able to cash becomes more important. Continue reading our guide on how to cash a cheque in UK.
What exactly is cheque cashing?
Cheque cashing is a faster and more convenient way to cash a cheque that does not need you to go through your bank and may be done at any time. A bank will normally settle your cheque within three business days. You may utilise a cheque cashing service if you can't wait to obtain your money quickly.
In exchange for granting you rapid access to your funds, the lender will charge you a percentage fee, which is sometimes fairly large.
How does a cheque get cashed?
To verify that a cheque is genuine, it must be clear before being cashed at a bank. Because the bank often has to confirm this with another financial institution, your cheque will usually be approved and handed out within three business days.
If you have a cheque that must cash right away, you may take it to a cheque cashing service to avoid the customer waiting time and obtain the money in cash.
Lenders that provide cheque cashing services transmit money without assurance that the cheque will be honoured, which may not occur if insufficient funds are available in the payer's account. In exchange for accepting this risk, cheque cashing services will charge you a fee, which is often a percentage of the value of the cheque.
Some banks may enable you to seek a special clearance to have your cheque cashed on the same day. However, this usually comes with a price.
When it comes time to cash a cheque, it pays to shop around to get the best deal. Cash Converters may be cheaper than Cash Generator for certain cheque sizes but not for others because of the different fees and rates.
Who provides cheque cashing services?
Cheques may be cash at numerous high-street locations of money-lending businesses and individual brokers.
It includes the following:
Money Exchangers
Cash Machine
Pawnbrokers H&T
Money Exchange
The Cashier's Office
You may also cash any cheques you have at your bank, although the cheque may take three days to clear.
Cheque types that can cash
Different service providers will have different standards, but in general, the following sorts of cheques may cash:
Cheques for business
Cheques from the company
Bank cheques
Account payable cheques
Cheques from the government
Benefit payments
Cheques for gaming and lotteries
Insurance payouts
Alternatives for cashing a cheque
What is the cost of cashing a cheque?
If you utilise a cheque cashing service, you will certainly be charged a percentage and processing fee. Depending on the supplier, this will often be a percentage cost of between 3% and 6% and a flat fee of between £1 and £5 per cheque.
It implies that the cheapest location to cash a cheque may differ depending on its size. If you need to cash a bigger cheque, it's generally worth looking for a cheque-cashing service that costs a flat rather than a percentage fee.
How to evaluate cheque cashing services?
If you want a short turnaround time for your cheque, cheque cashing companies might be a handy alternative to explore, but you must select the proper supplier.
As you consider your alternatives, here are some things to keep in mind:
Time to complete
Because this is likely the major reason you're using cheque cashing services, you should find out how fast you can expect to get the money. Some lenders may be able to provide you with the money in minutes, while others may take longer.
Charges All cheque cashing services will most certainly charge fees, but the issue is how much? Some may charge a set fee, a percentage of the check, or both.
Restrictions
Some suppliers may limit the cheques they may cash, such as commercial, personal, government, or other types. They are also likely to have restrictions on the number of cheques they may cash. Cheque the limitations before applying.
What to avoid while utilising a cheque cashing service?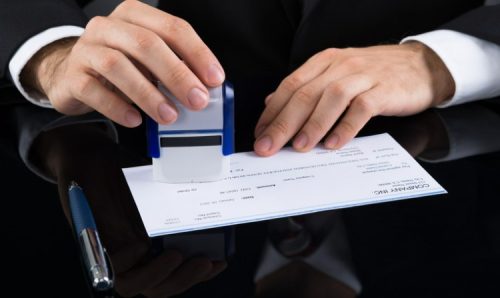 It's critical for anybody thinking about utilising a cheque cashing service to understand all the charges involved. These services may be costly, so consider how necessary it is to have rapid access to cash rather than waiting a couple of days for it to clear via the bank.
When you cash a cheque, you will certainly be required to give some identification, so have one with you.
Alternatives to cashing cheques
High-cost, short-term loans in the UK are limited to charge a maximum of 0.8 per cent each day. Thus, this alternative may be less expensive than a cheque cashing service charging a percentage fee.
If you need money right away, you may get a short-term loan for three days while you wait for your cheque to clear at the bank, and then use the cheque money to pay off your short-term loan the same day it clears.
Conclusion
Most individuals deposit cheques in their bank accounts, cash them at their bank, or present their ID and cash them at the bank that issued the cheque. Cashing a cheque without a bank account is achievable by cashing it at the issuing bank or a cheque cashing business. If you've misplaced your ID, you may still cash a cheque by using an ATM or signing it over to someone else. Many major stores do provide cheque cashing services. Read above how to cash a cheque in UK.