A cheque is a written instruction from an account holder to their bank to pay a defined amount of money to a particular recipient. Cheques are not legal cash, but they are legal instruments controlled by the Bills of Exchange Act of 1882 and the Cheques Acts of 1957 and 1992. Cheques are theoretically valid in the United Kingdom until they are cashed. There is no need under UK law for a cheque to have an expiration date. Most banks, however, would only accept cheques that are less than six months old. Even though your cheque is more than six months old and theoretically legitimate, don't be shocked if your bank refuses to accept it!
It is in everyone's best interest if you send in a cheque as soon as possible. Many things might hinder you from doing so. You could, for example, misplace the cheque. Because of your circumstances, you may be unable to visit a bank on certain occasions. Some people, of course, forget to write a cheque. Continue reading our guide on how long do you have to cash a cheque.
What Should You Do with an Older Cheque Than Six Months?
Do you have a cheque that is older than six months? Are you concerned that your bank will not accept it? Your best bet is to contact the company or individual who handed you the cheque-in in the first place. Explain your position and request that a new cheque is written for you.
Your bank account should show that the original cheque was never cashed. It's also feasible that they'll cancel the prior cheque they sent you. In other words, there should be no reason why they don't make one for you.
However, if they refuse to provide you with a new cheque, your only choice is to file a lawsuit. You'll need to take the company or person to court and demonstrate that they owe you money.
However, if you do It, you will pay considerable legal fees. And, unless you have legal expenses insurance, your court battle may wind up costing you more than the cheque itself!
So, take legal action only as a last choice, and only if the cheque is for a considerable sum that you cannot do without.
How Long Do You Have to Cash a Cheque?
Cheques used to take a couple of days to clear. The time it takes for a cheque to clear might vary from bank to bank. However, if you send in a cheque on a weekday, you should be able to access the money by 23.59 on the following weekday.
The majority of UK institutions currently use cheque imaging. Banks may exchange their cheque electronically using the cheque clearing system by taking a digital snapshot. It significantly lowers the time it takes for a cheque to clear. The only thing that may drag down the procedure is whether the cheque bounces or the next weekday is a bank holiday.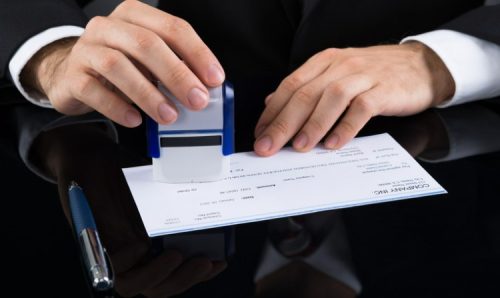 It is great news for anybody cashing a cheque since they'll get access to the funds much sooner. However, if you've written a cheque, be mindful that the funds may leave your account far sooner than you think. As a result, make sure you have enough money to pay any cheques you write, or they may bounce.
Avoiding Cheque Problems
In most circumstances, it is preferable to avoid using cheques entirely. You or your customers may misplace them or forget to deposit them, and even with the new cheque imaging technology, there is still a lag in the transfer of funds. In most circumstances, a digital bank transfer is quicker, safer, and more convenient than a cheque-in.
However, there are situations when a cheque is the only alternative. If you're working with a consumer that prefers to pay with cheques, you're more likely to run into this problem.
If you must deal with cheques, the easiest way to prevent problems is to establish a routine.
Put a date in your calendar for a trip to the bank, whether it's once a week, once a month, or even every other month. If you have any cheques lying around that you haven't cashed yet, you'll know to cash them before they "expire." If not, disregard your appointment! This method will also assist you in managing post-dated cheques.
And, if you ever have issues with bounced cheques or resistant customers or suppliers, legal cost insurance may help you collect debts. In contrast, business interruption insurance can assist you in handling any cash-flow issues.
Conclusion
You should always keep in mind that personal cheques are typically good for six months from the date of issuance. The bank will generally reject the cheque once the date has gone. On the other hand, banks do not have a cheque expiration date.
As a result, a bank-issued cheque is still valid after six months and does not expire beyond that period. The cheque is valid for the duration of the debt between the two parties. It signifies that the cheque has no expiration date. Nonetheless, it is standard banking practice to reject cheques older than six months. The procedure is intended to protect the person who wrote the cheque since there is a possibility that the payment was made by another method or that the cheque was lost or stolen.
Although you are generally used to receiving payments through digital transfers or cash, you may sometimes get a cheque. But how long do cheques last in the UK, and do they expire if not cashed promptly enough?
Most banks in the United Kingdom allow cheques to be valid for six months from issuance. Banks also maintain the right to reject more than six months old cheques. Blank cheques and cheque books, on the other hand, have no expiry date and may be used at any time. We hope that the above guide helped you understanding how long do you have to cash a cheque.