Today, there is a far broader selection of card machines than a few years ago. Previously, small companies had to make up with a bulky chip and PIN machine stationed at a counter, but today they can take advantage of mobile card readers that perform just as well. We explore best card readers for small business in UK with less than £40,000 in card transactions each month in this selection. Traditional card machines for tills, table-side payments, and smartphone usage are three of the alternatives. They are hired monthly with a contractual lock-in, but you obtain rates adapted to your company. The rest are mobile card readers that may be helpful with or without an app. These are no-contract, low-cost, and have no additional fees, making it more straightforward for new or small companies to begin taking credit cards. They don't charge monthly fees, simply a flat amount per transaction when buying the card machine.
Best Card Readers for Small Business In UK – Top 10
The Square Reader wirelessly connects to Android and iOS devices, enabling you to collect payments. Visa, V Pay, Mastercard, Maestro, American Express, Google Pay, Apple Pay, and Samsung Pay are all accepted. The Square dashboard generates sales statistics based on real-time data. 
And, allowing you to conveniently see all of your transactions and deposits in one spot. Payments arrive in your bank account within 3-5 business days or in as little as 20 minutes if you choose to upgrade to immediate deposits.
Takepayments is a good option if you want a customised solution to your specific company demands. They are a prominent merchant services provider in the UK's SME sector. Their products have no setup fees and may be used within 24 hours. Because most of their clients use their payment partner Barclaycard, they can provide free next-day settlements (Subject to terms and conditions
The Zettle 2 is the Square Reader's main rival, and both are responding to each other's price cuts and technological advancements. Since Paypal purchased iZettle in 2018 (breaking competition laws as a consequence), they have decommissioned its Paypal Here card reader and shifted its attention to the newly renamed Zettle line of card readers (previously iZettle).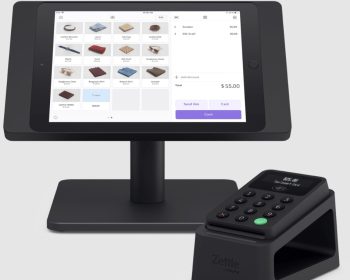 The PayPal Here card machine may be the best answer for enabling your business to accept card payments if you work with a well-known firm. PayPal is famous for its online payment services, and they've made tremendous progress in mobile card payments. Paypal Here, the point of sale and portable card reader, will accept payments from all major credit cards and Android Pay and Apple Pay.
There is no extended commitment, and charges are handled virtually quickly to your PayPal account.
SumUp has reacted to their key rivals' pricing decreases by matching their device cost. Their transaction costs are also somewhat lower than those paid by Square and Zettle.
The Worldpay reader is the company's first unit for the mobile payment sector. It is one of the most-costly devices to purchase, but an 18-month renting option is available. If you want a card machine with cheap transaction costs, this is one of the most acceptable options. Your monthly sales will determine the actual price you are charged, so this card machine may be appropriate if you are a very tiny firm. 
This machine accepts Visa, Maestro, Mastercard, Google Pay, Apple Pay, and Samsung Pay, with bank transfers requiring three days. The card reader itself is simple, and it is based on the same design as the PayPal card machine. On the other hand, the best card readers for small business in UK app will enable your company to take payments over the phone, provide remote payment links, and even send email invoices.
The least expensive entry on this list is best suited for small and seasonal businesses. This card reader allows Visa, MasterCard, JCB, Apple Pay, and Google Play payments.
If your company hosts its website with Shopify, you may save money with a 1.7 per cent transaction charge. As a result, this mobile card reader is one of the most affordable options. There is a monthly fee of £7, but the variety of features connected to your online Shopify shop make them excellent devices for small companies.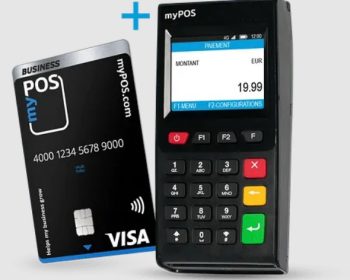 MyPOS Go is another no-contract card reader aimed at individuals who don't want all of the bells and whistles of specific payment systems and prefer simplicity at a reasonable cost.
Although they are classic countertop card PDQ machines, they are entirely movable and may meet the requirements of many small companies. The PDQ is tiny enough to fit in a pocket and accepts PIN and contactless payments from all major credit cards. It's one of the best card readers for small business in UK for small businesses looking to take payments quickly and cut down on wait times.
Conclusion
Card machines are a must-have for every company that accepts payments from clients. More consumers than ever before are opting to pay with a credit card or a contactless payment method. We are progressively transitioning to a cashless world due to the rising usage of cards, especially for contactless payments. Previously, companies had to rely on colossal chip and PIN devices. However, there is now a large variety of app-based card machines available. For many small firms, this is a more cost-effective and flexible alternative.
Several portable machines are available if you are a small company searching for a contactless payment system. These machines communicate with your mobile devices through Bluetooth, and a payment app is utilised to conduct the transaction. The consumer touches their card or enters their PIN the same way that standard card readers do. We have just aided you by mentioning the 10 best card readers for small business in UK for small businesses.
Disclaimer:
Image credits for all the images used in this blog post go to the respective owners. Online Business Blog doesn't own any rights to the images used in this blog. The image content used is for informative purposes only. We don't make any commercial ROI from it.